New JCB JS370 tracked excavator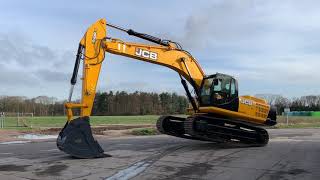 1/8
Year of manufacture
04/2021
Location
Kyrgyzstan
Bishkek
Placed on
more than 1 month
Description
Hydraulic pump capacity
348 bar
Engine
Fuel consumption
18.6 l/h
Buy by leasing
Get an offer to buy a vehicle by leasing
Год выпуска: 2020 г.
Вес: 38 372kg. (удлиненная гусеничная база)
Двигатель: DieselMax 672 Stage IIB,
Экологический класс Tier 2
Мощность: 281 ЛС при 1900 об/мин
Гусеницы 600 мм. Тройной грунтозацеп
Стрела: 6 200 мм
Рукоять: 2 100 мм
Ковш: 2,2 куб. м, усиленный
Глубина копания: 6 000 мм
Высота копания: 9 730 мм
Макс горизонтальный вылет: 10 460 мм
Объем топливного бака: 590 л.
Гидролиния для навесного оборудования
Гарантия 12 месяцев
Скорость вращения башни: 10 об/мин
Радио магнитола, Отопитель,
Кондиционер
Добавочная оптика
Скорость передвижения: 5.0км/час
Спутниковое слежение за состоянием экскаватора Live Link – 5 лет бесплатно!

СЕРВИСНЫЕ ИНТЕРВАЛЫ
Масло двигателя и масляный фильтр - каждые 500 моточасов
Гидравлическое масло - каждые 5000 моточасов
Фильтр гидравлического масла - каждые 1000 моточасов
Воздушный фильтр - каждые 1000 моточасов
Максимальное давление в гидросистеме: 348 БАР
Производительность основного гидронасоса: 2х304 л/мин
Сроки доставки от 3 дней до 3 месяцев в зависимости от ваших пожеланий.
Сотрудничество с банками по предоставлению лизинга при покупке техники:
«IJARA COMPANY» срок кредитования до 5 лет.
«Бай Тушум» срок кредитования до 7 лет.
«Айыл Банк » срок кредитования до 5 лет.
Important
This offer is for guidance only. Please request more precise information from the seller.
Safety tips
Selling machinery or vehicles?
You can do it with us!